Here's a nifty speed tip that applies to all browsers built upon the Mozilla Gecko rendering engine.
Type
about:config
in the Location Bar and press Enter. A humourous warning might be displayed,
as it's (sort of) the Mozilla equivalent of the Windows Registry. Uncheck the "Show this warning"
check box, click the "I'll be careful" button ... and proceed.
In the "Filter" field, type
pipelining
or simply just
pipe
. Double click the following options . . .
network.http.pipelining
network.http.pipelining.ssl
network.http.proxy.pipelining
. . . so they display "true" in the Value column.
Now doublclick on
network.http.pipelining.maxrequests
and enter a slightly higher number than
the default 4 displayed in the pop up box. Something like 25 should suffice, but try not to make
it any higher than 30. This option, with the others enabled, instructs the browser to send out
more connection requests to webservers each time you visit individual websites.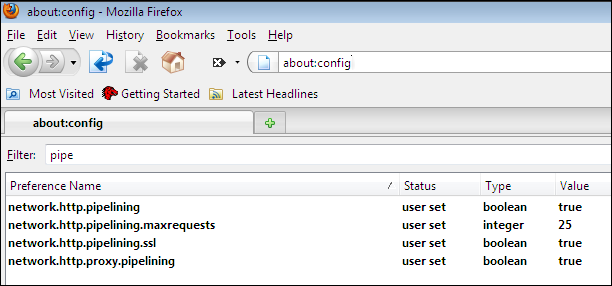 The plus side is that can increase browsing speed a fair bit more than the default settings, but
on the minus side, it does increase the amount of bandwidth used at both ends, so remember
to use some common sense when applying these settings, and don't be too greedy!