Microsoft has officially announced a new addition to the XBox360 family, to go alongside the
existing Standard console with 20GB HDD, and the Core System that comes with no HDD . . .
Introducing the XBox360 Elite System . . .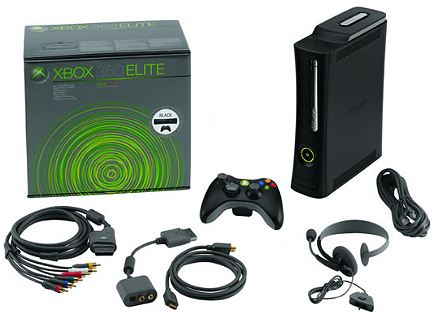 Yup, it's black ... just like the original XBox!
What you'll get with this machine . . .
Xbox 360 120GB hard drive: Yes, you read that right. A 120GB HDD is included, offering
twice as much game saving capacity, as the recently released PS3. Eat that Sony!
Xbox 360 Wireless Controller (black): Much like the standard white control pad made
for the standard XBox360 consoles, except in black. As you can see from the pic
above, all the accessories with this beast are styled in black.
Xbox 360 headset (Black ... of course!)
Xbox 360 HDMIcable: (Something the PS3
doesn't
include in the box!)
Quote:
New to Xbox 360, HDMI lets you get HD video (up to 1080p)
and multichannel surround sound, all from one cable.


Xbox Live Silver Membership: That's silver, not black!
One-month subscription to Xbox Live Gold.
Complete details on the official XBox website ... click here!
News articles:
BBC News Online - Xbox revamp aims at digital home
RegHardware - MS confirms black Xbox 360 Elite
BetaNews - Microsoft Announces Xbox 360 Elite